Aostirmotor A20 Folding Fat Tire 500W 36V Electric Bike
Regular price
$799.00 USD
Regular price
$1,199.00 USD
Sale price
$799.00 USD
Unit price
per
Sale
Sold out
✔ SSL Secure Online Checkout
✔ Free 30 Day Returns
✔ FREE Shipping to Lower 48 USA
✔ 100% Price Match Guarantee
✔ No Sales Tax Outside TX
✔ Direct to Your Door in 3-10 Days or Less
Share
Description

Shipping

Returns

FAQ's

Price Match
Aostirmotor A20 36V/13Ah 500W Mini Fat Tire Folding Electric Bike 175508
With this Compact Electric Bike, Daily Commutes Will Be More Exciting!

The Aostirmotor A20 Mini Folding Bike will serve as both a dependable means of transportation and a vehicle for daily excursions. With its attractive small frame and strong electric motor, this lovely electric bike will make navigating congested city streets simple. The A20 has a substantial battery and a set of grippy fat tires, which are ideal for navigating crowded streets to school or work. It is one of the best fat bikes available today. This electric bike with large tires is ideal for commuters, parents, riders, and outdoor enthusiasts.

Even though the Aostirmotor A20 Electric Bike is small, it has a lot of power. It has a strong 500 watt brushless motor that lets you move swiftly and traverse difficult terrain. It is the ideal vehicle for city commuting or trail riding and has more power than other more expensive electric bikes. Since the motor is housed inside the hub of the back wheel, it benefits from being mechanically simpler, delivers torque to the wheels directly, and is weather-protected.

The frame has a robust mid-fold bike frame with a quick-release clamp that secures it and makes the entire frame stable. This bike is portable due to its collapsible frame. Or you can carry it inside your house or workplace to avoid paying for parking. This bike rides very well on firm terrain as well as on loose surfaces like dirt, gravel, sand, or snow. It is the ideal vehicle for both daily use and adventure. To shorten your journey, have the courage to use it on the road as well as on dirt trails, curbs, and walkways. The Aostirmotor A20 comes in stunning black and orange hues.

With a solid suspension and some wide tires that absorb shock as you ride, this bike is built for dependability and simplicity. You may use bike lanes and off-road trails to avoid city traffic because it is an electric bike. For customers who prefer the comfort of bikes for commuting, it is the ideal option. In addition to being a fast mode of transportation, this electric bicycle is also more environmentally and socially responsible than a car because it produces no emissions.

The bike features a throttle and pedal assistance, so you can choose whether to save battery life or maintain speed with minimum effort. It has a range of 15.5 to 21.7 miles (25 to 35 kilometers) on a single charge, making it the ideal everyday vehicle that won't run out of power in the middle of your commute. The Aostirmotor A20 Folding Electric Bike is available for purchase right here at Stryker Electric Bikes. Avoid city traffic and get at your destination swiftly.




Adults and anybody else seeking a simple, dependable bike for daily usage will find the Aostirmotor A20 Folding Electric Bike to be ideal. You can easily store it in the trunk of your car, fold it up, and take it on the bus or train thanks to its simple folding bike frame. Additionally, it requires less storage, making it perfect for tiny spaces like apartments or dorm rooms. For commuters and leisure riders who value comfort, the A20 is perfect.

For its compactness, this folding bike is powerful! The Aostirmotor A20 boasts a reasonable top speed of 24.8 miles per hour (40 km/h) thanks to its 36-volt, 500-watt brushless motor. You may anticipate this bike to travel at a safe speed in traffic. In order to provide direct torque to the ground for quick acceleration, the motor is housed inside the back wheel. You won't have any trouble riding uphill or over bumps because to its powerful motor considering its small size.
When using the throttle solely, this electric fat bike has a range of 15.5 miles, or up to 21.7 miles when using the pedal assist. Possess the self-assurance to make short or round-trip commutes to work or school. The large 13 amp/hour lithium battery power pack in the Aostirmotor A20 may be removed so you can charge it inside. You can charge the bike for an hour or two to increase its range because the battery charges completely in four to six hours.

The five-level pedal assist and twist throttle on the Aostirmotor A20 make it very simple to operate. Use the throttle to easily travel and accelerate on the road, or select the pedal-assist to extend the bike's range. Additionally, the bike has a Shimano seven-speed rear derailleur so you can ride and operate it like a standard bicycle.
It is an effective electric bicycle. Whether riding on the road or on gravel or mud, the four-inch thick fat tires that are supplied provide it good traction. The bike has reliable mechanical disc brakes up front and down back that let you stop in an instant. It has a top-notch bike frame made of rust-resistant 6061 aluminum. Compared to steel-based frames, aluminum is less heavy and does not rust.

A sleek bike with a traditional low-step folding frame and 20-inch alloy rims for a sporting appearance is the Aostirmotor A20. This small bike has a sporty feel thanks to the exposed disc brakes and thick tires. It is a sensible option with strong parts for complete mobility. The Aostirmotor A20 Folding Electric Bike is ideal for daily movement and commuting.

Enjoy this Folding Bike for City Cruising!
Would you like to go to work or school in the city on an effective electric bike? Are you seeking for a useful item for metropolitan areas with heavy traffic? Foldable electric bikes are more convenient for riders and are simple to store and transport to work or school. For adults and teenagers who want to enjoy riding cool bikes for commuting in the city, the Aostirmotor A20 is advised. When there is little space, the foldable frame makes it simple to transport and store. Take pleasure in driving on your daily route's bumps and potholes with the four-inch fat tires.

Depending on how you utilize the throttle and pedal assist, the Aostirmotor A20 has a range of 15.5 to 21.7 miles on a single charge, which is more than enough to last the entire day. The electric fat bike's 500-watt brushless motor and seven-speed Shimano derailleur will bring back the thrills. When you have to squeeze through traffic, you need a vehicle with enough of power reserve for fast acceleration.

Optimal Dimensions
The Aostirmotor A20 electric bike is 69" long, 48" tall at the handlebars, and weighs 74.9 lbs. (34 kg) when the battery is included. minimal assembly required right out of the box.

The battery of the A20 can be fully charged in just six hours thanks to its charger. Before using the bike, make sure it is completely charged. Make sure the brakes are adjusted and the tires are inflated to the correct pressure before you ride the bike for the first time. Before using the bike, check each component.

Contains Modern Electronics
Take pleasure in your travels on the Aostirmotor A20 Folding Bike. It has a twist throttle that is simple to operate while driving. Use the pedal-assist for more comfortable pedaling if you wish to pedal. The seven-speed Shimano derailleur lets you control speed and torque. The LCD Intelligent Display lets you see everything you need to know, including the battery level, running speed, amount of assistance, and travel distance.

The 36-volt lithium-ion battery pack that powers the A20 may be removed and charged within your house or place of business. The bike charges completely in just six hours, so adding a few hours of charging time can increase the range. This bike has an adjustable stem for added comfort, and the saddle is broad. Take advantage of all these advantages with this clever, yet potent, foldable bike. The bicycle has a front lamp, a back rack, and a kickstand, among other necessary roadside equipment. You'll like riding it every day, and it's great for both weekday errands and weekend excursions.

Avoid buying surplus or inexpensive electric bikes.
Purchasing an electric bike might be risky because many of the affordable models are neither dependable nor safe. Because of their subpar electronics or poor craftsmanship, they are not intended for extended usage. Some inexpensive fat tire motorcycles come without even the most fundamental electrical safety precautions, which puts the rider at risk of electric shocks. Additionally, many surplus models are unable to climb slopes or offer sufficient levels of pedal assistance. They are limited in range and have inexpensive batteries.

There is no way to get them fixed if something goes wrong. They are not dependable. The majority are also uncomfortable to use. Select true performance and safety. Select just the brands of electric bikes that have been around for a while and have certifications.

Aostirmotor Fat Tire Electric Bikes are the Real Deal!
The best option for an active and sustainable lifestyle is an electric bicycle. It has been demonstrated that such vehicles enable individuals to reach physical activity levels, particularly those who are not physically capable of exercising. Driving in the city might take up a lot of your precious time and reduce productivity. Remember to factor in the price of gas, insurance, and auto maintenance.

At Aostirmotor, we strive to be innovative and design electric bikes that complement people's lifestyles and are intuitive for the majority of users. Our motto, "Power brings Joy," refers to the fact that we build our bikes to produce greater power than those of our rivals, giving our consumers more bang for their buck. Throughout addition to the United States, our organization is present in Europe and Asia. When you purchase this Aostirmotor A20 Folding Electric Bike from Electric Bike Paradise, you'll receive fantastic discounts and plenty of free gifts!

Specifications
Bikes Best Seller Ranking: #29
Folding, Aostirmotor brand
Size: 20" Colors: Orange and Black
Adult body age Component: alloy
Equipped with Modern Electronics
Enjoy travelling with the Aostirmotor A20 Folding Bike. It is equipped with a twist throttle that is easy to use on the road. If you prefer to pedal , choose to use the pedal-assist for more comfortable pedaling. Control speed and torque with the seven-speed Shimano derailleur. See everything you need with the LCD Intelligent Display, displaying the battery level, running speed, assisting level, and trip distance.
The A20 is powered by a 36-volt lithium-ion battery pack that is removable so you can charge it inside your home or office. The bike charges fully in just six hours, so charging it for a few hours can extend the range. For additional comfort, the stem of this bike is adjustable and comes with a wide saddle. Enjoy all of these benefits in this nifty yet powerful, folding bike. The bike has road essential accessories such as a front headlight, a rear rack, and a kickstand. You will love to ride it every day, and it is perfect for the daily commute and weekend adventures.
Don't Go for Surplus or Cheap Electric Bikes
A lot of cheap electric bikes are not reliable nor safe, so buying one is often hit or miss. They are not designed for sustained use because of poor craftsmanship or poorly-done electronics. Some cheap fat tire bikes lack even the most basic electrical safety features, which can put the user at risk of electric shocks. Also, a lot of surplus models cannot climb hills or provide enough level of pedal assist. They are equipped with cheap batteries and cannot go far. 
If something goes wrong, there is no way to have them serviced. You cannot depend on them. Lastly, most are not comfortable to use. Choose safety and real performance. Only choose electric bike brands that have years of presence in the market and have certifications. 
Get the Real Deal with Aostirmotor Fat Tire Electric Bikes!
Electric bicycles are the way to go for an active and sustainable lifestyle. It has been proven that such vehicles allow people to achieve physical activity levels, especially those who aren't fit enough for exercise. Driving a car in the city can eat up your limited time and cut productivity. Don't forget the cost of car maintenance, insurance, and gas. 
Here at Aostirmotor, we want to be creative and create electric bikes that fit people's lifestyles and most will find easy to operate. We also design our bikes to deliver more power when compared to competitors (hence our motto 'Power brings Joy'), so our customers will find more value in their purchase. Our company has a presence not only in the United States, but also in Europe and Asia. Get amazing deals plus tons of freebies when you purchase this Aostirmotor A20 Folding Electric Bike here at Electric Bike Paradise!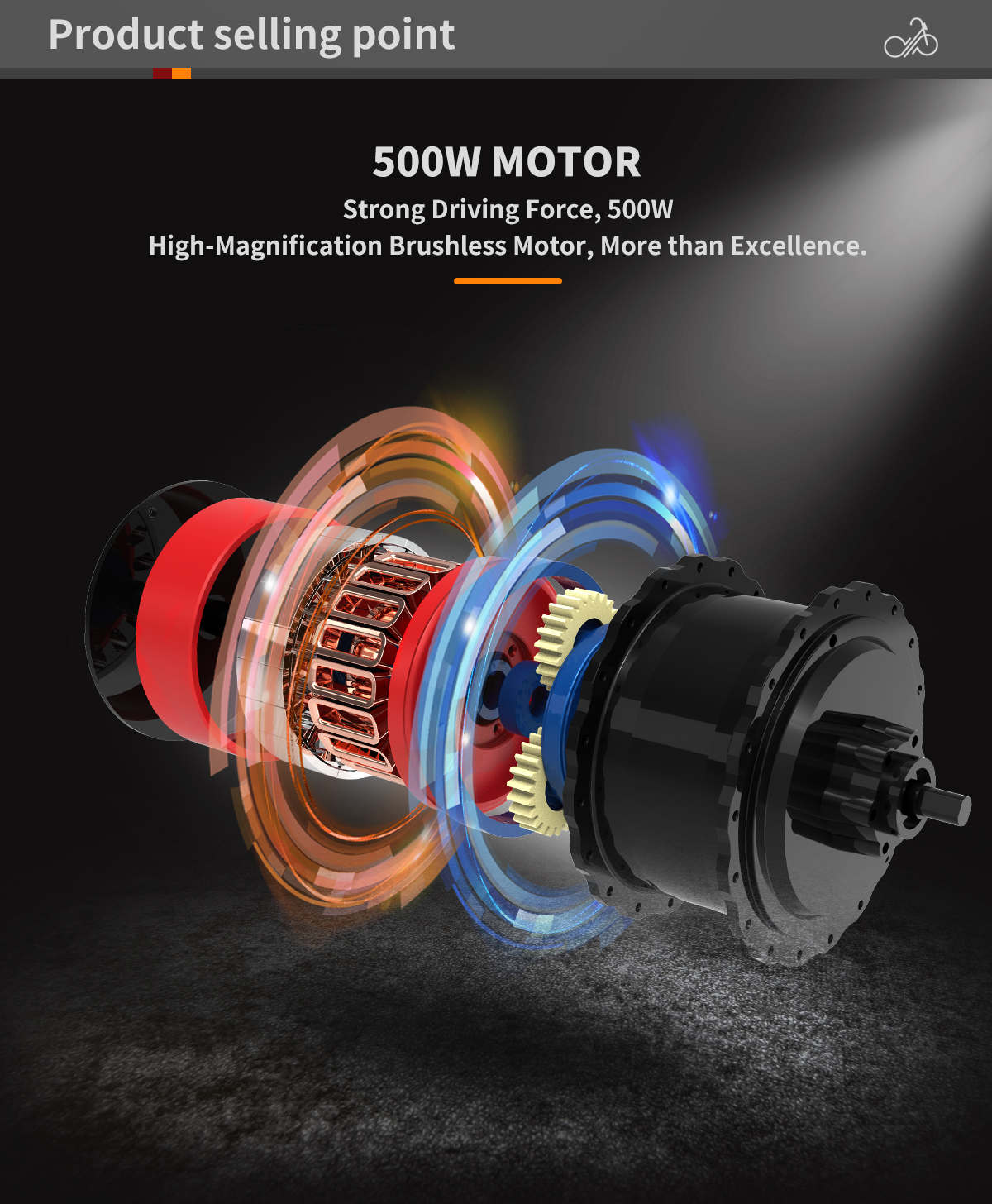 Aostirmotor A20 Fat Tire Folding Electric Bike Electric Bike Specifications
| | |
| --- | --- |
| Frame | 6061 aluminum alloy |
| Motor | 500W Motor |
| Charge Time | 4-6 hours |
| Range Distance | 25-35 km |
| Light | With front light, rear reflector |
| Fork | Aluminum Alloy Rigid Fork |
| Derailleur | Outer 7-speed SHIMANO |
| Battery | 36V 13 AH lithium battery |
| Controller | 36V 22A |
| Brake | F/R disc brake |
| Display | LCD display |
| Tire | 20 x 4.0 |
| Package Size | 140*28*68cm |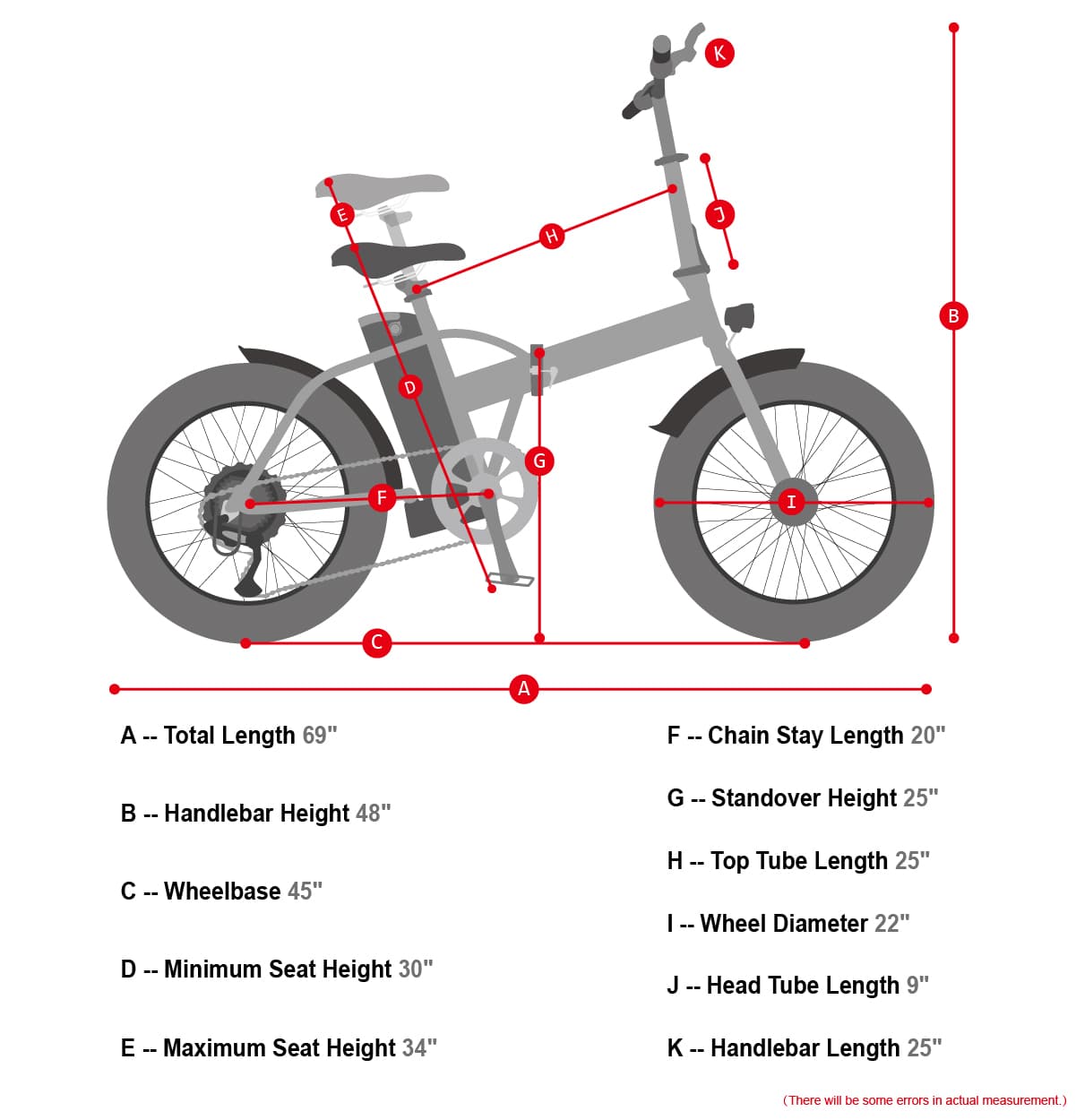 Aostirmotor E-Bikes come with a 1-year warranty against manufacturing defects and workmanship. Please click on the link for the Aostirmotor warranty details.
As soon as you place your order, you'll receive an "Order Confirmation" email with details about your order.
After we receive your order, we'll start processing it immediately. We process the majority of our customers' orders within 3 hours. We want you to receive your item(s) as soon as possible!
After your order is processed, it usually takes between 1-3 working days for it to be shipped. You will receive a "Shipment Confirmation" email with tracking info as soon as your order is dispatched to you.
We Ship With
IMPORTANT: you must be present to sign for your order when it arrives. All of our e-bikes are shipped with "Signature Required" to make sure they arrive safely. After you receive your tracking information, you can know exactly when your order is going to arrive so you can make proper arrangements.
How Much Does Shipping Cost?
Shipping is FREE on all of our products! No minimums required.
How Long Does It Take To Ship My Order?
As soon as we receive your order, we'll start processing it immediately. Your order will be dispatched to you in 1-2 working days.
Where do you ship from?:
We are an authorized dealer for the brands we carry and we ship directly from their warehouse.
How Long Would It Take To Receive My Order?
After your order is shipped, it will take between 3-10 working days for you to receive your items depending on your location. Please note we cannot guarantee shipping time. Unanticipated delivery delays by shipping companies (Fedex, UPS etc) are out of our control.

**Product not immediately available: We will email/call you with an estimated time of arrival (ETA) and you can decide how to proceed.
How Do I Track My Shipment?
As soon as your order is shipped, we'll send you an email containing your tracking number. You can use it to track exactly where your order is.
Which Courier Will Deliver My Order?
We work with different shipping providers to ensure the fastest shipping times for you. Some of them are: UPS, FedEx, DHL, USPS as well as as other premium couriers.
Do You Ship Internationally?
At this moment, we only ship within the US.
Should I Be Present To Receive My Order?
All of our e-bikes are shipped with "Signature Required". This is to ensure your e-bike gets to you safely. You can make arrangements accordingly based on the date on your expected delivery tracking info.
Order Confirmation:
You will receive an order confirmation email as soon as you place your order. This means that we have authorized your credit card for the purchase and are preparing your order for shipment.
As soon as we receive your order, we automatically reach out to our warehouse to confirm that it is in stock and available for immediate shipment.
If your item is on backorder or unavailable, we will reach out to you via email.
If your item(s) are available for immediate shipment, we will process the charges and submit the order for shipment.
Order Shipment:
If your order is stock and your credit card is approved by our fraud guarantee department, the e-bike ordered will ship within 1-2 business days from the date of your order.
We will send you the tracking information within 24 hours to the email address you provided when checking out.
We ship daily via UPS Ground, Fed Ex Ground, and Freight to the lower 48 states. Most all orders will ship the same day as ordered if the order is submitted before 1pm PST (some exceptions apply, some part & freight orders may not ship until the following day).
Some parts orders and freight shipments are subject to ship the following business day if the order is placed close to the 1pm cut off time.
Shipping costs are included with any unit going ground to the lower 48 states. AK & HI ship by AIR at additional cost.
We do not offer Cash On Delivery.
A phone number is required by the freight company so a delivery appointment can be made.
Failure to provide this at the time of order may cause a delay in delivery as freight items will not be delivered without an appointment.
A delay in delivery may also cause additional storage fees to accrue that will need paid prior to delivery.
Note to international customers:

You are responsible for any and all duties or taxes that may apply.

(see details below)
Customs, Duties, and Taxes: Import duties, taxes, and charges are not included in the item price or shipping cost. The recipient of an international shipment may be subject to customs brokerage fees, import duties, and taxes after the shipment reaches the destination country. Additional charges are the responsibility of the recipient because we have no control over these government-imposed charges and cannot determine what they may be. Customs policies vary greatly among countries. Therefore, we cannot, and will not, offer advice about taxes in your country. We report the amount of the sale on the Customs form. Please do not ask us to claim less than the actual purchase amount. It is the customers responsibility to know the legality of the e-bikes ordered in their country. Do not order items that are illegal to import into your country. Laws are different in every country and we cannot keep up with them all. It is your responsibility to check with your Customs office to see if your country permits the shipment of our e-bikes to your country.
As the buyer, it is your responsibility to find out that information before you order.

Please contact your local customs office for information.
To avoid a delay in receiving your order from customs, consider the following:
Provide us with a phone number where you can be reached by customs when your e-bikes arrives. This phone number will be listed on the commercial invoice so customs can reach you to clear your order.
Please do not refuse a shipment or ignore requests from carriers regarding duty and/or tax liability charges. Be aware that most carriers will hold a shipment for 5 days after arrival in your country before they return it to the sender.
We do not refund original shipping charges for goods that are refused for delivery at customs.
We will deduct all additional fees resulting from refused international shipments from your refund.
If we are charged for YOUR taxes and duties on the shipment or incur any penalty or lawsuit related to your order or shipment, we will post the charge to your credit card.
If the package is seized by Customs for any reason and we do not receive the package back, we will NOT issue you a refund since, obviously, local laws and regulations determine the fate of the package. If we do receive the package back after being seized, you are still responsible for the shipping charges and any other fees plus penalties incurred.
We ship via UPS and Fedex for most e-bikes, USPS for small parts and accessories, and freight for big e-bikes.
If you don't receive tracking information from us within six business days of your order confirmation, feel free to follow up with us at support@strykerebikes.com
Damages:
Please inspect the packaging of your items when they arrive.
If there are any e-bikes damaged upon arrival, you can file a warranty claim to get replacement parts for anything that's damaged.
If your item(s) do arrive damaged, please send photos to support@strykerebikes.com and we will process an insurance claim on your behalf.
Cancellations & Refunds:
All orders canceled are subject to an administration fee equal to 15% of the total order amount, whether or not your order has shipped. This is a fee that covers administrative and personnel fees.
If your item is on backorder and you accept the backorder, we will hold your payment until the e-bikes ships. If you decide to cancel before a backorder arrives and is processed for shipping, we will not charge a fee.
If you order has shipped, you (the buyer) will be responsible for actual return shipping charges. Refunds will only be issued to the original credit card that you use when placing your order.
Preorders:
PRE ORDERS CAN BE REFUNDED ANYTIME BEFORE SHIPMENT
Preorder refers to an item that is out of stock, but will be coming back in stock at a later date. Electric Bike PROS offers you the option to purchase an item that is listed on the website as a Preordered item that will ship once it is back in stock.

Expected Shipping Date

We estimate to our best ability on when we know our preorder items will ship. We list the target date or time frame on the product page. Please keep in mind that there are things outside of our control. This means that delays may occur. Should there be any delays to the product's availability date, you will be notified via email.

We understand that sometimes timing is critical, so if you wish to cancel your backorder, please send your request to support@strykerebikes.com and include your order number. You may also contact our customer service department at 817-657-9772.

Payment for Preorder

When making a preorder purchase online, full payment is required for us to hold this item for you. Once the item has become available, your order will ship and be delivered. If you were to cancel your order before it ships, we will issue a full refund.

Returns on Preorders

Due to the nature of preorders, we understand that the delivery of your purchase will be delayed. All items that are purchased as a preorder, are subject to the brands return window from the day the item is received. We require is that the bicycle is in new condition, meaning free from any scratches or damages. To review all other details for returns, please view the "Returns and Warranty" tab.
Backorders:
From

time to time, an e-bike may run out of stock at our warehouse and the website wasn't updated when you placed your order. In that case, we will send you an email right after you place your order notifying you of the backorder, what the expected time for arrival is, and what substitutes are available in case you are interested in getting an e-bike sooner.
The expected arrival time may change due to unforeseen circumstances like a shipment getting held up at the port upon arrival or the factory missing a certain part needed to complete the manufacturing process.
If the arrival time changes on your order, you can let us know whether you would like to keep the order, substitute for a different e-bike, or cancel the order altogether.
Once back orders arrive, we will notify you by email with your estimated ship date and you will receive an email with tracking information within 1-3 business days.
This section will give you the essential information about what to expect with the delivery of your item. If you purchased one of our large and heavy items your item will ship freight LTL will be delivered via a lift gate truck.
Important Freight LTL Shipment
1. When the item reaches your city or a city near yours the dispatcher will call you to set up a future delivery date and time with you. The item will not be delivered until you set up this appointment.
2. You need to be at the delivery address during the delivery window to receive and sign for the item.
3. The dispatcher will let you know what dates they have available. Delivery appointments can only be scheduled Monday thru Friday. The delivery times can only be scheduled in delivery windows of 8 am - 12 pm or 12 pm - 4 pm. Depending on the freight company the delivery window may differ. A fixed delivery time cannot be scheduled. Example 9:00 am. It can only be scheduled in a delivery window time frame.
4. Please make sure the phone number you entered at checkout is a good number to contact you at.
5. Don't screen your calls until your item has been delivered.
6.The item will be delivered via a lift gate truck with one delivery person. It will be placed at your door or the closet area near your door. Due to the large size, it may not be possible to be placed at your door.
7.Be sure to keep all your packing materials including the pallet. If you decide to return the item you will need to have all the original packing materials.
How to Handle Damages, Exceptions or Discrepancies at time of e-Bike Delivery (Carton packaging appears to have some damage such as ripped, holes, large dents, open carton, or items are missing):
Carton damage requires visual inspection of contents of the unit.
Electric Bike Pros recommends IMMEDIATE inspection, with driver present, to verify damage. If contents are damaged, indicate damage on carrier's paperwork and notify Electric Bike Pros immediately.
IMPORTANT:

If contents cannot be inspected immediately, notation on carrier's paperwork must state:

"Carton damage, subject to inspection"

and list type of damage.
Contents must be inspected within 48 hours of arrival and actual damage reported to the carrier
Carton packaging has excessive damage with the exposed e-Bikes:
Please read carefully the

FAQ's

as each supplier have their own returns policy.
Notify Stryker E Bikes immediately.
If you have any further questions about the ordering and shipping process, feel free to contact us by email at support@strykerebikes.com
| | | |
| --- | --- | --- |
| | | Please allow 3-10 business days for your order to arrive. All of our products are sourced in the US and we take pride in having the fastest shipping in the industry. |
| | | Returns are easy, simply contact us for a return. Before you purchase your item make sure to review the return policy below. |
Return Policy
StrykerEbikes.com is committed to providing the best customer service in the electric bike, electric skateboard and electric scooter industry. Our goal is to make your shopping experience as easy going as possible and ensure that you are 100% satisfied with your purchase. We will do our best to meet your expectations at all times.

Return Policy by Brands
Frequently Asked Questions
Question: How long are your shipping times?
Answer: 2-10 business days, If your item is a special order or on backorder it may take longer. We will contact you and let you know if that's the case.
Question: How much is shipping?
Answer: Shipping is free.
Questions: Which courier will deliver my package?
Answer: We work with different shipping providers to ensure you have the fastest shipping times. We ship via UPS, Fedex and USPS depending on the size of your package.
Question: Will I have to assemble my electric bike?
Answer: All of our e-bikes come 90% assembled and they require very little assembly. We recommend that you get the 10% remaining assembly done by a professional to ensure that your e-bike is properly assembled. It'll literally take 20-30 minutes!
Question: Where are you located?
Answer: We operate out of an office/warehouse in Dallas, Texas.
Question: Where is my order coming from?
Answer: We have warehouse locations across the USA where products ship from.
Question: If something is out of stock can I back order or special order it?
Answer: Yes! Please contact us here: Contact Us
If you have a question that isn't covered here, please feel free to contact, contact by phone or email, or click the live chat button during normal business hours.
Lowest Price Guarentee - Our Promise
At strykerebikes.com, we work very hard to ensure that we offer the absolute best prices online. We want you to feel confident that you are getting the absolute best prices in the market.
We work with our suppliers to ensure that they set minimum advertised pricing guidelines for all of our competitors. This means that everyone else selling the same electric bike online is supposed to be selling it at the same price.
If you find another online store that offers a lower price then us within 30 days of your purchase date please let us know and we will contact the brand to ensure they are not breaking the minimum advertised price policy. If you qualify for a refund, you will be refunded the difference in price to your credit card.
To request your partial refund, simply email us a link to the bike on our website and on our competitor's website, within 30 days from the date of your order and we will process the credit accordingly.
100% Price Match Guarantee Limitations
You must purchase the item from our website before requesting your Price Match Guarantee

Promotions such as rebates and "buy one, get one free" offers are not eligible

The item must be in stock on the competitor's website

The competitor must be an online store, they may not have a retail location

The website can not be a discounter or auction website (ie; eBay, overstock, Walmart, Amazon, etc..)

The competitor must be an Authorized Retailer of the bike in question

The Price Match Guarantee includes the item price and the shipping charges, it excludes sales tax
If you want to check if we can price match a electric bike before you place your order, please contact us.
Lowest Price Guarantee
The Lowest Price Guarantee allows you to make a claim, if within the 30-day validity period, you see the exact same electric bike advertised on the same merchant's Web site at a lower published retail price. If the claim is confirmed in your (the buyer's) favor, we will refund you the difference up to $100 USD.
How to Use the Service:
At any time during the validity period of a Norton Shopping Guarantee, you can register or log in to the Norton Shopping Guarantee Buyer Service Center to utilize the Service. To use the service:
You must be the buyer of record of a valid Norton Shopping Guarantee certificate or number issued within the immediately preceding 30 days.

Select "

Guaranteed Transactions

" in the Buyer Service Center.

To start the claim process for a particular transaction, click the "Price Claim" link for that transaction.
Lowest Price Guarantee Terms:
Claim
You will be required to provide the following information:
Proof of guarantee:

Your Shopping Guarantee number and your email address used during the eligible transaction. The Shopping Guarantee number is provided to you on the order confirmation page from your merchant or the Certificate of Guarantee email.

Details about the transaction:

Web site where the eligible purchase was made, date of purchase, amount paid, description of the item and SKU (if applicable). This information is typically included in the purchase confirmation email you received from the merchant.

Proof of lower price:

We recommend that you send us a screenshot and the URL of the same item you purchased, showing the new price. We cannot accept printed materials, or email text as proof of the lower price.
All claims must be made by sending an email to support@strykerebikes.com. Our staff will verify your claim within 10 business days. We reserve the right to contact you and the merchant in order to get more information. All claims must be made in English.